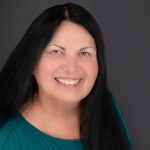 Jeanie Walls
Sales Partner - Broker
A little about me
Jeanie's passion for real estate blossomed from an early interest of visiting open houses. It started back when she was in the military in Colorado Springs, where Jeanie would visit amazing houses. Even though they were not houses she could afford at the time, she loved seeing them to get ideas on decoration or architecture, or even how to improve a home.
That excitement surely continued because she then became a seven-time client of J.P. Finley, buying properties with her husband. Having spent a lot of time with J.P. looking at houses, he quickly identified her impeccable eye for quality. It was something he wanted on his team, so he offered Jeanie a job.
Jeanie has grown into a unique agent in that she doesn't only focus on the big ticket items. "Everyone has a different budget and everyone has the right to a home", she says. Whether it's a $40,000 home or a $2 million home, Jeanie treats every client with the same amount of importance, helping them find the perfect home for them.
Having worked in customer service for decades, Jeanie is a great listener. This is especially important in property buying, where people often say they want a certain thing, but later discover they want something else. It's Jeanie's passion to listen and read between the lines, to help them find a home to fall in love with!
One of Jeanie's biggest interests is spending time with family, especially playing with her grandkids, which range from the ages of 3 to 16. She also enjoys sewing and reading books set in the future - which make her really excited for the year 2052 to finally arrive!